RoboVDino
v.1.1 update and come see us at the Portland Retro Gaming Expo 2018!
---

If this dinosaur could talk, it would say: "update today and quit throwing garbage at me!"
Throw! MORE! Garbage! At! ANOTHER! Dinosaur! RoboVDino's first update!
NEW:
Stegosaurus: Watch out for this dino's spinning tail attack. It can't be stopped, but Stego gets dizzy and passes out.
Nachos: Throw this tasty trash at dinos to knock 'em out.
GameFeller: This retro handheld is game over for dinos!
CHANGES:
Added version number to main menu
Fixed controller disconnect persistence issue where players that disconnected their controller would hang around after starting a new run.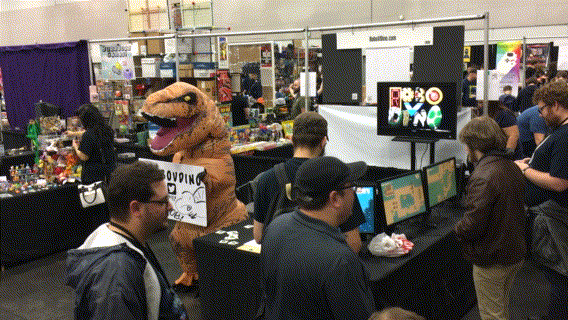 Files
robovdino-windows 32-bit.zip
21 MB
robovdino-windows 64-bit.zip
24 MB
robovdino-linux 32-bit.zip
26 MB
robovdino-linux 64-bit.zip
26 MB